The FortiGate 100E series (FortiGate 100E, 101E, 100EF and 140E-POE) delivers next generation firewall capabilities for mid-sized to large enterprises, with the flexibility to be deployed at the campus or enterprise branch. Protect against cyber threats with security processor powered high performance, security efficacy and deep visibility.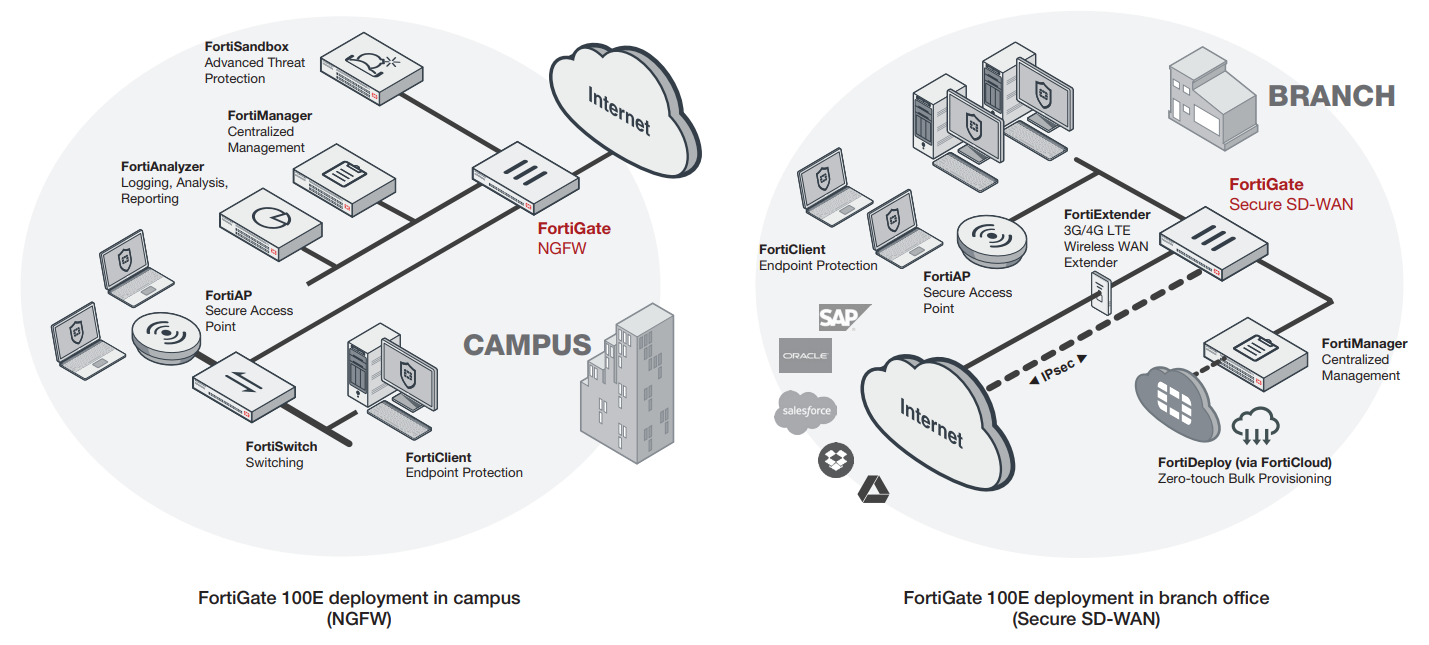 Interfaces
USB Port
Console Port
2x GE RJ45 MGMT/DMZ Ports
2x GE RJ45 WAN Ports
2x GE RJ45 HA Ports
14x GE RJ45 Ports
2x GE RJ45/SFP Shared Media Pairs
System Performance — Enterprise Traffic Mix
IPS Throughput (2): 500 Mbps
NGFW Throughput (2, 4): 360 Mbps
Threat Protection Throughput (2, 5): 250 Mbps
System Performance
Firewall Throughput (1518 / 512 / 64 byte UDP packets): 7.4 / 7.4 / 4.4 Gbps
Firewall Latency (64 byte UDP packets): 3 μs
Firewall Throughput (Packets Per Second): 6.6 Mpps
Concurrent Sessions (TCP): 2 Million
New Sessions/Second (TCP): 30,000
Firewall Policies: 10,000
IPsec VPN Throughput (512 byte) 1: 4 Gbps
Gateway-to-Gateway IPsec VPN Tunnels: 2,000
Client-to-Gateway IPsec VPN Tunnels :10,000
SSL-VPN Throughput: 250 Mbps
Concurrent SSL-VPN Users (Recommended Maximum, Tunnel Mode): 500
SSL Inspection Throughput (IPS, avg. HTTPS) 3: 130 Mbps
SSL Inspection CPS (IPS, avg. HTTPS) 3: 130
SSL Inspection Concurrent Session (IPS, avg. HTTPS) 3: 125,000
Application Control Throughput (HTTP 64K) 2: 1 Gbps
CAPWAP Throughput (1444 byte, UDP): 1.5 Gbps
Virtual Domains (Default / Maximum): 10 / 10
Maximum Number of FortiSwitches Supported: 24
Maximum Number of FortiAPs (Total / Tunnel Mode): 64 / 32
Maximum Number of FortiTokens: 5,000
Maximum Number of Registered FortiClients: 600
High Availability Configurations: Active / Active, Active / Passive, Clustering
---
Vì sao nên chọn chúng tôi ?
Hàng chính hãng bảo hành 1-5 năm.
Hỗ trợ kỹ thuật Miễn phí trọn đời sản phẩm.
Giao hàng nhanh trên Toàn quốc.
Cho mượn hàng tương đương chạy tạm nếu cần chờ đặt hàng hoặc đổi hàng bảo hành.