The Peplink Balance is a reliable, cost-effective, and full-featured Internet Link Load Balancing solution that caters to a diverse range of business environments. It provides the flexibility to load balance between multiple Internet connections, such as DSL and cable, for increasing Internet bandwidth, reliability, uptime, and reducing the cost of having expensive leased lines or MPLS. The user-friendly Web Admin and Reporting Service help you to manage your network easily and intuitively. User control and bandwidth QoS features make Peplink Balance the best networking router for businesses of all sizes.
The Peplink Balance 710 includes 7 advanced load balancing algorithms. Network traffic is distributed to different Internet links to achieve an overall increase of network speed. Simply add low-cost Internet links such as DSL, Cable to your existing network, loading websites will be much faster. Everyone in the network will benefit! Using outbound traffic manager, you can setup rules to route high volume traffic to your faster Internet Links and optimize speed. DSL Optimization will help prioritize increasingly heavy traffic. Intelligent and Automatic Failover performs regular "health checks" to ensure up-to-date statuses, and if one of the links fails, Peplink Balance will automatically re-route traffic to a healthy link to provide continuous internet connectivity.
Even more advanced features include Inbound Load Balancing, enabled by a built-in DNS server on the router, which distributes inbound data traffic over multiple WAN links to computers behind Peplink Balance. PPTN VPN server functionality for up to 300 users, QoS for VoIP and E-Commerce, and Bonded VPN throughput make this an excellent choice for businesses who rely on VPN, and the Bandwidth Usage Monitor allows you to monitor your usage for each connection.
Drop-in Mode, also known as Bridge Mode or Transparent Mode, allows the router to be deployed in an existing network without incurring any configuration changes to existing devices (e.g. routers, firewalls, etc.). The following diagram illustrates how Drop-in Mode simplifies the installation of Peplink Balance and isolates deployment risk to a small number of components: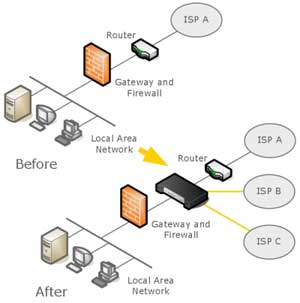 Features:
Router Throughput: 2.5Gbps
WAN Ports / Internet Links: 7 GbE Ethernet
LAN Ports: 3 GbE
3G Modem Support
Load Balancing Algorithms: 7*
Load Balancing / Failover
Drop-in Mode
Site-to-Site VPN Bonding
Number of S2S VPN Peers: 300
PPTP VPN Server
Bandwidth Usage Monitor
Inbound Load Balancing
QoS for VoIP and E-Commerce
User Groups Bandwidth Control
High Availability
Recommended Users: 500-2000+
Recommended PPTP VPN Users: 50
LAN Bypass: 50
Specifications:
Dimensions: 1.72" x 16.8" x 14.9"
Weight: 12.1 lbs
Power Requirements: Universal Input 100V to 240V AC
Wan: Supports PPPoE, Static IP, DHCP, GRE
Lan: Built-in DHCP Server for LAN Clients
Load Balancing:

Intelligent Failover
Session Persistence
Per-Service Load Distribution
Multiple Algorithms*

Complete VPN Solution:

Site-to-Site VPN Bonding

Bandwidth Aggregation
Intelligent Failover
256-bit AES Encryption

PPTP VPN Server

Advanced QoS:

User Groups

Bandwidth Reservation
Individual Bandwidth Limit

Application Prioritization

By User Groups
SIP, HTTPS, VPN QoS
Custom Application QoS

Networking:

NAT and IP Forwarding
Configurable Static Routes
Port Forwarding
Many to One, One to One NAT
VoIP, SIP ALG, Vonage Support
UPnP, NAT-PMP
WINS Server

Security:

DoS Prevention
Stateful Firewall

Supports dynamic DNS services provided by:

changeip.com
dyndns.com
no-ip.org
tzo.com

Device Management:

Web Administrative Interface
Email Notfication
Client List
Web Reporting Services
Syslog
SNMP v1, v2c and v3

Support and Warranty:

1-Year Standard Warranty
1-Year Firmware Upgrade1-Year Firmware Upgrade

Certifications:
* The Balance 710 features Weighted, Enforced, Persistence, Priority, Overflow, Least Used, and Lowest Latency Load Balancing Algorithms.
---
Vì sao nên chọn chúng tôi ?
Hàng chính hãng bảo hành 1-5 năm.
Hỗ trợ Miễn phí trọn đời sản phẩm.
Giao hàng nhanh trên Toàn quốc.
Cho mượn hàng tương đương chạy tạm nếu cần chờ đặt hàng hoặc đổi hàng bảo hành.